Para complementar o post anterior, mais dois magos dos teclados tocando juntos... Este encontro realmente aconteceu, em 2011.
Texto a seguir retirado de
( http://jonlord.org/2011/07/09/lord-wakeman-world-premiere-at-sunflower-jam/ )
"The Sunflower Jam 2011 will be remembered for one of Jon Lord's most rewarding appearances of 2011 – musically daring and performed with sharp excellence.
On an evening already rife with musical talent, Jon Lord shared the stage with Rick Wakeman for the pair's brand new composition It's Not As Big As It Was (allegedly about the music biz although it was preceeded by jokes about old age and prostate problems). This was without a doubt The Sunflower Jam's musical crown jewel benefitting the good cause of helping children suffering from cancer. Donations are still welcome."
This is Rasmus Heide's report:
Jon Lord appears onstage after almost an hour of excellent music from the likes of Danny Bowes (Thunder), Gary Brooker, Joe Bonamassa and Newton Faulkner. These gentlemen (and woman) have entertained the crowd with blues and rock classics that fare very well, particularly Gary Brooker's rendition of A Whiter Shade of Pale and Joe Bonamassa's Thrill is Gone. However, Jon will proceed to seize the show and push up the excitement level several notches.
"One of the greatest keyboardists in rock'n'roll, Mr. Jon Lord!" Joe Bonamassa introduces the maestro and kicks off a slowly evolving Ballad of John Henry. Bonamassa's bluesrock signature tune is the perfect choice for the two masters to pool their forces. Building its riff to a roar before dipping to the verse – and then lifting itself up to the menacing chorus, Jon's swirling Hammond backdrop has touhes of the quietly contemplative work he did for the band Ride some years ago.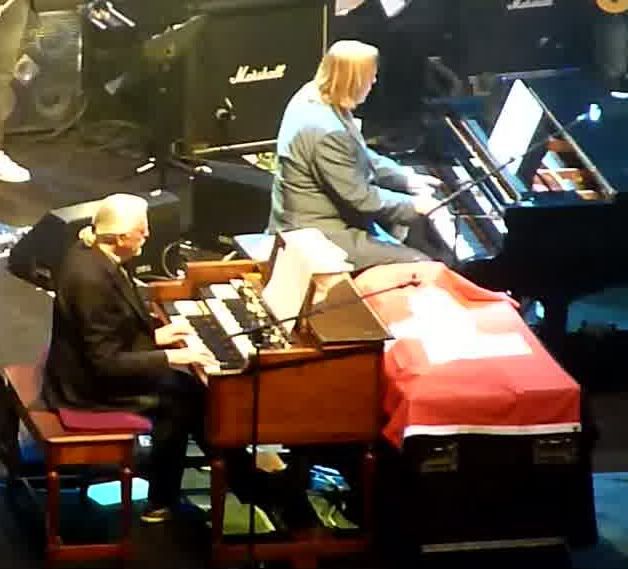 Standing at the edge of the stage – having pushed the organ chair to a side – Jon is in great shape and form; focused and well prepared for what will turn into an absolute musical feast celebrating almost every aspect of his musical prowess – and in the stately old Royal Albert Hall where his work first came to prominence in 1969 – and again in 1999.
Bonamassa's John Henry is taken down to a shimmer and Bonamassa steps up to the theremin to make it squeal eerily to the fascinated crowd – until Jon Lord gently takes over. His solo is stormy and intense, developing to a massive Hammond crescendo full of his trademark wails and runs. Bonamassa moves closer and teases Jon into a guitar-organ chase the likes of which we've not heard for nearly 20 years… Majestic and spine-shivering.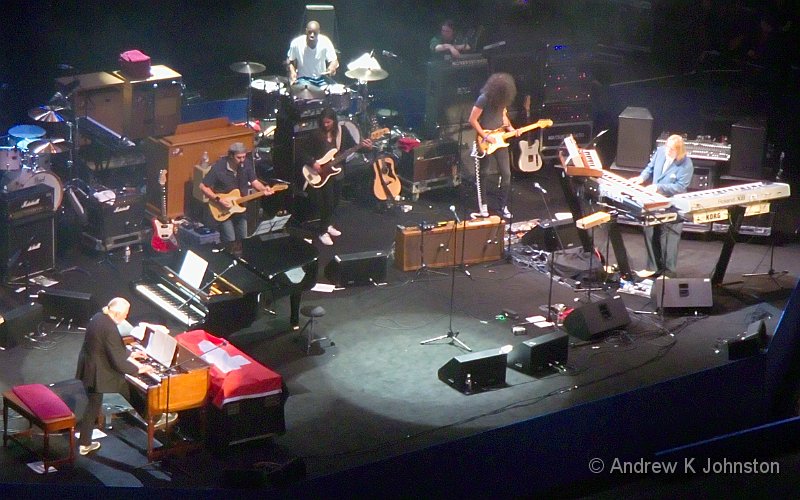 Thanking Bonamassa, Jon introduces the next piece as Bourree from his Sarabande album. The contrast is tangible. With the evening's musical director Paul Wickens on synthesizer, Jon handles piano and then Hammond for the solo. Anna Phoebe adds a particularly mean solo violin to the piece, expanding again the range of musical flavours of an already boundary pushing evening.
"I've got a big ask of you. Not a big ass – although it used to be bigger – but a big ask. Into every show a quiet song must fall," explains Jon Lord before presenting "the rather wonderful" Steve Balsamo to sing Jon's most popular solo piece. Balsamo delivers a particularly tender and confident Pictured Within – in his element, gazing out at the crowd, inspiring pin drop silence. Lacking the sweeping string section of its standard orchestral arrangement, in its place Anna Phoebe displays immaculate delicatesse on her fiddle. The piece is a gorgeous contrast to the previous rackets and again, Jon Lord's musicality proves its extraordinary range.
Palhinha:
E o álbum...
The Sunflower Jam
Royal Albert Hall
London
England
07/08/2011
1 Who Killed John Henry (Joe Bonamassa, Jon Lord, Sunflower Band)
2 Bouree (Jon Lord, Anna Phoebe, Sunflower Band)
3 Pictured Within (Jon Lord, Steve Balsamo, Anna Phoebe, Paul Wickens)
4 Eleanor Rigby (Rick Wakeman)
5 It's Not As Big As It Was (Jon Lord, Rick Wakeman, Sunflower Band)
6 Life on Mars (Jon Lord, Rick Wakeman, Newton Faulkner, Anna Phoebe, Sunflower Band)
Sunflower Band:
Paul Wickens – keyboards
Murray Gould – guitar
Micky Moody – guitar
Nick Fyffe – bass
Jerry Brown – drums