6 de mar. de 2016
Born and raised in Anaheim, California, Karen Lawrence grew up in a musical family. Aged 19, she fronted L.A. Jets, recording a self-titled album in 1976. But soon their label dropped the band. Then Karen and drummer John Desautels decided to go on under the name of 1994, adding guitarist Steve Schiff and bass player Bill Rhodes to the line-up. Legendary producer Bob Ezrin was interested in the band, but at the time he was very busy, then recommends to his friend engineer Jack Douglas (Blue Oyster Cult, Cheap Trick, Aerosmith) get in touch with 1994. Impressed by Lawrence vocals, Douglas started to write songs with her, and soon landed a recording contract with a major label. Recorded y produced by Douglas at The Record Plant Studios in New York, 1994's debut still sounds fresh today. The album is a first rate collection of songs in the american melodic hard rock tradition, similar to Heart but more rockier and smokin'. All songs are good, being my favorites the haunting "Heleana" and the hot-rockin´ "Radio Zone". On many tracks the band sounds blusier ala Aerosmith-with-female-vocals, as on the great "Anastasia" (Brad Whitford of Aerosmith guest on guitars), another favorite. Recently remastered (with the addition of 4 poor sounding live tracks), 1994's self titled debut is one of the best late '70s female fronted albums ever, which has stood the test of time thanks to the excellent production.
9 de dez. de 2013
Akira Takasaki (Osaka, Japão, 22 de fevereiro de 1961) é um guitarrista fundador da banda Loudness. Nasceu em 22 de fevereiro de 1961 em Osaka. Começou a tocar guitarra cedo, e aos 16 anos já participava de pequenas bandas. Seu primeiro trabalho levado a sério foi na banda Lazy em 1976, na qual tocou junto com seu colega de faculdade Munetaka Higuchi. Nos primeiros trabalhos da carreira, o Lazy fazia pop-rock, e com o tempo, passaram a inserir elementos de hard rock, tendo assim uma sonoridade semelhante ao do Earthshaker e Mari Hamada. Takasaki e Higuchi permaneceram no Lazy até 1981 e nessa mesmo época, procurando focar-se no hard rock/metal, decidiram começar uma nova banda. Foi assim que o Loudness surgiu, e já iniciaram suas atividades no começo de 1981 . De todos os membros da banda, Akira é o que possui uma carreira-solo mais extensa e maiores participações em outros projetos.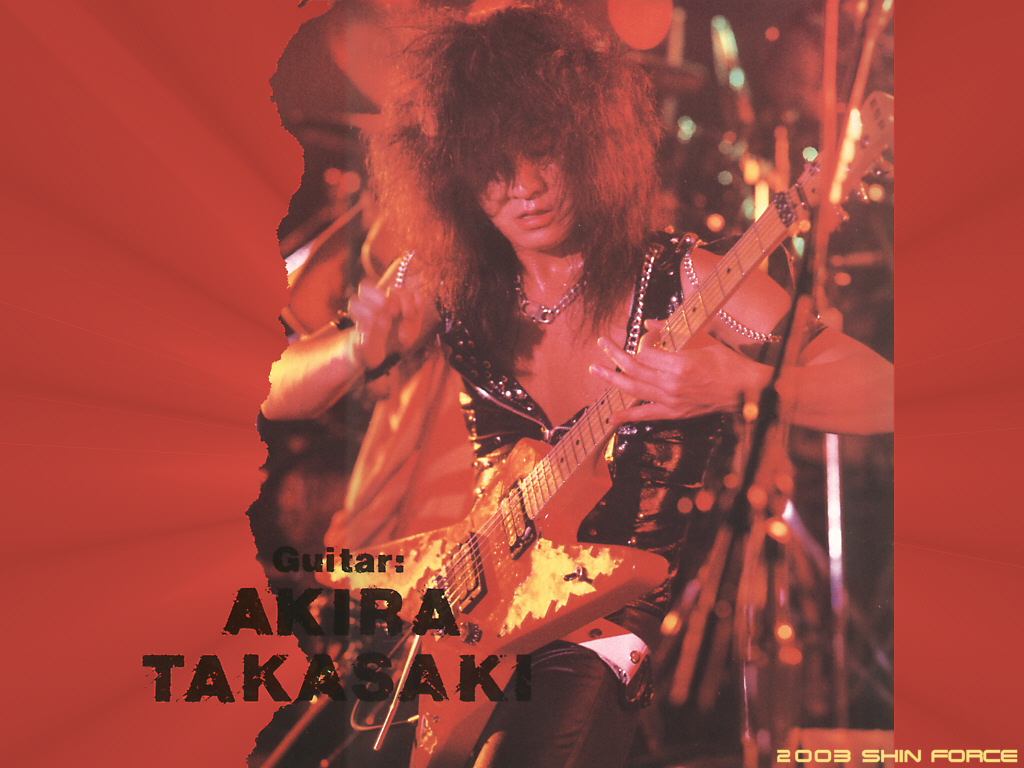 Em 1983, lançou o primeiro álbum de sua carreira-solo, sendo considerado pelos fãs como uma continuação do Loudness, pois todos os membros da banda participaram do disco, porém ainda soa diferente dos trabalhos do grupo; e no mesmo ano, ajudou o baterista Munetaka Higuchi em seu disco de estréia Destruction. Para a gravação do álbum "Wa", em 1996, convidou o guitarrista americano Paul Gilbert (famoso por ser guitarrista do Mr. Big, Racer X e ter trabalhado ao lado do ex-vocalista do Anthrax, Neil Turbin). Entre 2002 a 2006, Takasaki lançou cinco discos, tendo gravado todo o vocal e o restante dos instrumentos sozinho (além de guitarra, o músico também toca bateria e contrabaixo). Dentre esses discos lançados nesse período, há a trilha-sonora do anime "GeneShaft" desenvolvida por ele; além de estar envolvido no projeto Jasmine Sky junto com o cantor Hisae. Pelo seu amor ao instrumento, Takasaki fundou uma empresa chamada "Killer Guitars", que produz guitarras e contrabaixos. Muitos outros excelentes guitarristas orientais como Hideto Matsumoto, Yoshikazu Yahiro, Hideaki Nakama ou Fumihiko Kitsutaka, apesar de terem grande habilidade com o instrumento, não possuem a fama e reconhecimento mundial que Akira detém, por isso, Akira Takasaki é o principal representante das 6 cordas no Japão e sua influência já conquistou e ainda conquista diversos fãs ao redor do mundo inteiro.
Segue uma palhinha:
Um bootleg de seu trabalho solo...
ENJOY (Links nos títulos)!!!!
Mais Japan Music no Som Mutante: